The times are changing, the way we do business is changing, the way people will do business in the future will also change. There are many things that need to be automated in business processes which are being done manually. It is important to have strategies which can enable you to keep pace with changes in business.
When it comes down to it, upgrading the way you do business with an eye on automation is integral. Automating your sales, customer relationship management and getting your automated digital marketing systems in place so as to be able to manage these relationships from start to finish is a must. It's a tool that can ease a lot of pressure, bring a great deal of efficiency and boost productivity no matter what type of business one happens to be running.
When we talk about automating your business, we talk about different tools and solutions that will help you to get the job done. However, it is rare and hard to find a true all-in-one app that is capable of serving multiple purposes like Hubspot does. It is a CRM, marketing solution and sales platform all-in-one. But still there are plenty of Hubspot alternatives and better ones.
Has any one of you ever heard the phrase "Jack of all trades, master of none"? Well regardless of how it sounds, there is some truth in this analogy and some misconception. It is critical to understand that regardless of what type of product or service you're offered, it should be focused on solving a specific problem, or shouldn't it?
The software as a service (SaaS) technology boom has changed the way we do most things online. Everything is now easier, faster and more efficient. A decade ago it wasn't so. The SaaS technology space wasn't full of many different solutions for many different problems, but there was enough to choose from. We had different tools for social media, different tools for content, different tools for email marketing, for customer support, for blogging, for customer relationship management and so on. And Hubspot started a new trend many years ago where customers no longer needed to search for multiple tools and instead were offered a one solution that can fit many needs for small and medium size businesses. Business automation became a trend with tools like Hubspot and Hubspot Alternatives.
It is a common misconception that business automation tools are alike. In reality, there are a number of automation tools that operate differently. This software can be various combinations of big, complex enterprise solutions like SalesForce, Zendesk, or Oracle, or it can be simpler, smaller, inbound tools like HubSpot, Marketo, or Eloqua.
HubSpot is easily one of the most well-known inbound marketing tools available and one of the pioneers of business automation. So it's understandable that you'd want to compare HubSpot to other similar software. That's what we're going to do in this article.
What is Hubspot?
HubSpot is a marketing all-star. Its success is well earned from being a top-rated service by marketers and sales executives alike, employing powerful platforms that not only promote content but also generate leads and bring customers to your website that aim to convert into valuable customers. In the world of Inbound Marketing, few companies can rival HubSpot's influence thanks to multiple eBooks like "How To Retarget Prospects on Google with Remarketing Lists for Search Ads" or "A Beginner's Guide To SEO For Content Marketing".
HubSpot is a third of the marketing automation market. A lot of sales and marketers have mentioned HubSpot in one form or another. A HubSpot blog provides all kinds of free resources to learn, especially their free CRM (Customer Relationship Management). It's really easy to use, even for non-technical users like marketers at startups! But, It's not cheap. Which is one of the factors which makes people search for Hubspot Alternatives.
Why should you search for Hubspot Alternatives?
?Steep Pricing
As pointed out by one user, Hubspot does offer some free tools for some of their products. But it appears sporadic on first inspection at least; not all services are covered by the 'free plan' and you'll find that if you want to use some or all of these on a more daily basis, this will eventually start to cost far more than you would like to pay.
?Hardly customizable
Hubspot is missing some essential features in its customer relationship management system, everything is designed based on its own workflow logic and it's difficult to change. Some things are customisable but not very much.
?Complicated user interface
Hubspot CRM isn't an easy program to learn. The user interface is complicated and it may take some online tutorials to fully absorb how everything works.
Hubspot CRM is a piece of software that is meant to help businesses and sales teams be more efficient and productive, but based on their interface it could actually be quite a learning curve before it actually helps you with business automation. The interface is a little complicated and requires some time and energy to fully understand how to use it.
What Features to look for in Hubspot Alternative?
✅Сustomer Support Tools
For a long time, customer service was thought to be a secondary issue for businesses. In other words, the basic idea was that you could have a good sales pitch and great products and no one would care how helpful your customer support was. However, this has changed drastically. Today, a large chunk of how a customer thinks about a business is defined by the support they receive. And so, it is a great idea to have a customer support tool in place. The question is, what are the best customer support tools and if Hubspot competitors have it too? Long story short, yes, there are better alternatives to Hubspot.
✅Content Marketing Tools
For businesses who are looking to make sure they get the most out of their marketing, having content marketing tools is a great way to stay on top of things. There are many different kinds of content marketing tools and they can be specifically tailored to any kind of business or budget!
✅Email Marketing Tools
While it may seem like email marketing isn't as important as it used to be, it still is one of the most cost-effective ways to reach out to customers and leads. It's also one of the easiest ways to nurture relationships with customers and potential buyers. This is because newsletters and other types of email advertising are direct ways to send important information to people who are more likely to pay attention to it.
✅Customer Relationship Management Tools
Have you ever noticed how each section of a supermarket has a different layout? This is intentional as supermarkets want to make sure that customers spend as much time as possible in the store. Each section has a different theme and it is done to trigger emotions from those shopping. For example, candy and other sweets are placed next to the register, so that when a customer pays for their groceries, they're tempted to purchase a treat. Supermarkets have been using this tactic for years to increase sales. From a business standpoint, using CRM software that is easy to use and scalable is a good idea for any company. Even if you have a small, one-employee company, CRM software can be a vital tool for managing emails, calls, and other business communications.
There are many different pieces of software for managing customer relationships, but which is the best one for your needs? One of the top options is LabiOffice' CRM software. It's a cloud-based software that allows you to manage every important aspect of your customer relationships in one place. Through it, you can access customer information and notes, see what services and products they need and want. It's a favorite among small businesses and large corporations alike, because it allows you to work cooperatively with employees and customers.
---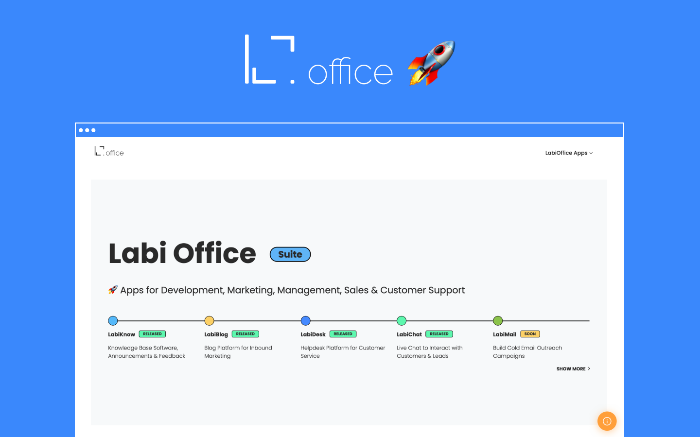 ​​LabiOffice is genuinely one of the greatest HubSpot alternatives. LabiOffice Suite is a combination of all essential tools that you business may need in order to successfully run it and automate process. Such tools include CRM, email marketing, live chat and marketing automation. The CRM software has a huge database of real contacts and company profiles, which will help you to reach out to a real person, a company representative, a partner or a customer. The email marketing tool will help you to send a large number of newsletters, small letters and e-books to a selected group of people. The live chat tool will help you interact with your clients 24/7 and to answer all the questions they might have. The marketing automation tool will help you to organize your sales funnel, personalize your marketing process and to follow each lead to its end.
Features
? Blog Platform
? Blog Website Builder
? Content Marketing Tools
? Live Chat
? Customer Relationship Management (CRM)
? Knowledge Base
? Help Desk Software
? Ticketing Management
? Email Marketing
? Cold Email Outreach
Pricing: You can purchase all these tools as separate ones or subscribe to LabiOffice Suite. Pricing starts from $19 per organization.
---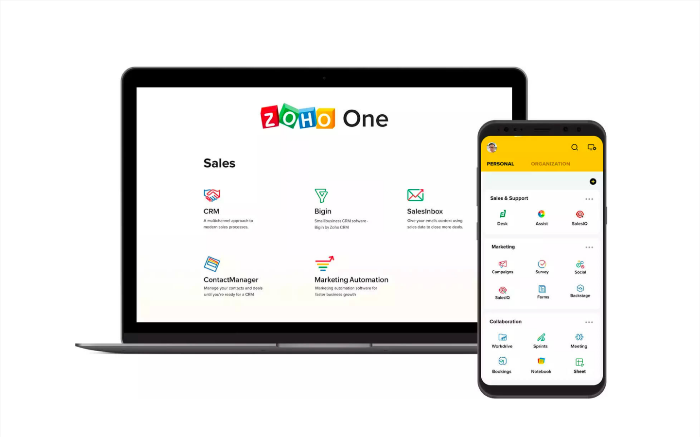 Zoho is a great choice for companies that want to do better without spending a lot. Zoho has created office software that allows you to get more done at a fraction of the cost. The tools they provide allow you to focus on your core business, your growth and your bottom line instead of convoluted software and time-consuming steps.
Pricing: Zoho has free and paid plans. As always, free versions lacking essential features and paid plans start from $14 per user per month, to $52 per user per month.
---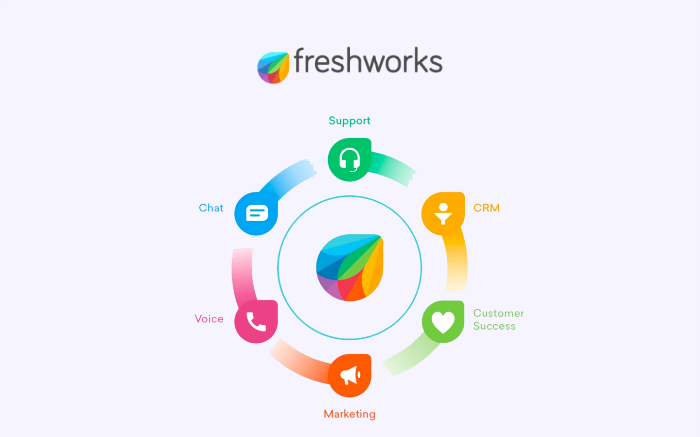 Freshworks is a cloud-based company that helps small and medium businesses (SME) solve their problems with varying solutions. A true HubSpot alternative.These solutions include a team collaboration app and a helpdesk. The first software that Freshworks offers is a helpdesk. It offers multiple plans that vary in price depending on the number of agents and the number of technical support solutions. Freshworks also offers a team collaboration application where the users can all work together to better themselves and finish projects on time. The software includes features such as a universal inbox, real-time chat, CRM, sales tools and more.
Pricing: There are free plans to their tools and paid one starting from $15 per user per month. The plans that have all the essential features start from $39 per user per month.
---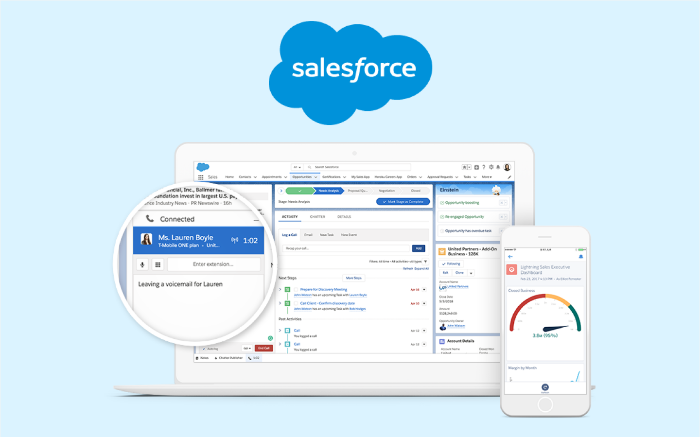 Salesforce is an enterprise cloud computing company based in San Francisco, California. They produce software for customer relationship management (CRM). Their flagship service includes software for sales, service, marketing, analytics, and commerce. It's hard to run a company without the right tools. And Salesforce is one of the best business tools in the business. It's a CRM software that helps you keep track of all of your customers and their contact information.
Salesforce CRM is a client relationship management software and its in direct competition with HubSpot, as tends to be one of the top HubSpot alternatives. In Q4 of 2021, they enjoyed a revenue of 5 billion dollars. This company has been on top of its game since inception. They have been very careful not to rock the boat when it comes to customer feedback for their product because they recognize that they could lose some customers if they changed key aspects of what had already been established with their customers.
Pricing: Salesforce's pricing structure is similar to other CRM plans in that the more features you want the more expensive it becomes per month. Salesforce offers 4 different editions of their software, with each one having more features than the last. Pricing starts from $25$ per month, but the plan you would want to get starts from $100 per user per month. Plus add here costs for system configurations, developers cost and training. It could easily be around $100 000 a year just to get it going.
---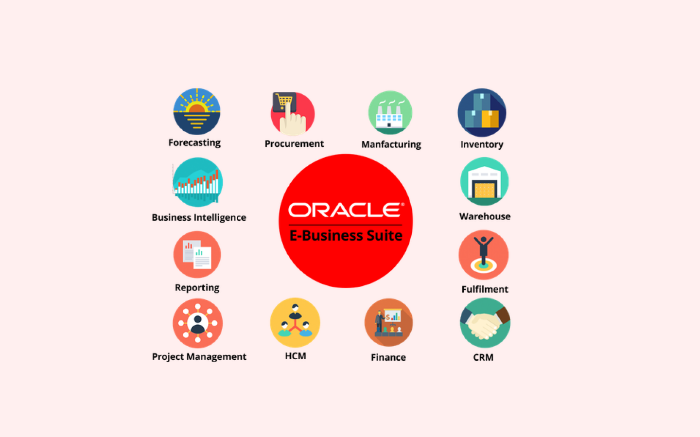 Oracle is another great HubSpot alternative. Oracle Software has been in the business of supplying enterprise-level services to businesses for over three decades. Founded in 1977, the company started out developing software for database management in the United States Navy. This eventually led to the formation of Oracle in 1982, which has since become one of the biggest names in the industry. Over the years, Oracle has expanded their operations to cater to individual users, small businesses, and large enterprises. Through it all, they have maintained their commitment to putting their users' satisfaction first.
Since then, Oracle expanded and now it has different types of software, including customer support and customer relationship management software that compete with Hubspot and other similar alternatives.
Pricing: This type of software is only affordable to huge enterprise companies. Prices are steep.
Thank you so much for reading this list of five top alternatives to Hubspot! Hopefully, the information here will help your business make the right decision. There are so many options out there, so it's important to look at all the details associated with each one before making a decision for your needs. LabiOffice Suite is one of the best-of-the-best alternatives on this list that we know you simply can't ignore.
We hope you will find this blog post valuable. If it is helpful to you, please share with others who might find it useful too. If you have any questions about HubSpot alternatives, please feel free to comment below, we are here to help. Also, if you have experience with any of our recommended HubSpot alternatives, please feel free to leave your comments, we are always excited to read about other people's experiences.